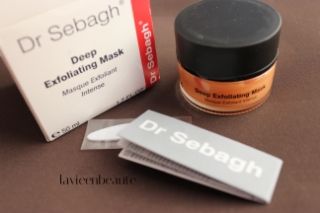 The first thing I thought when I saw this product was–who?? Who is Dr. Sebagh? Well, I did a little digging and he's a cosmetic surgeon based in Paris with his own skincare line. You can read a good profile of him here.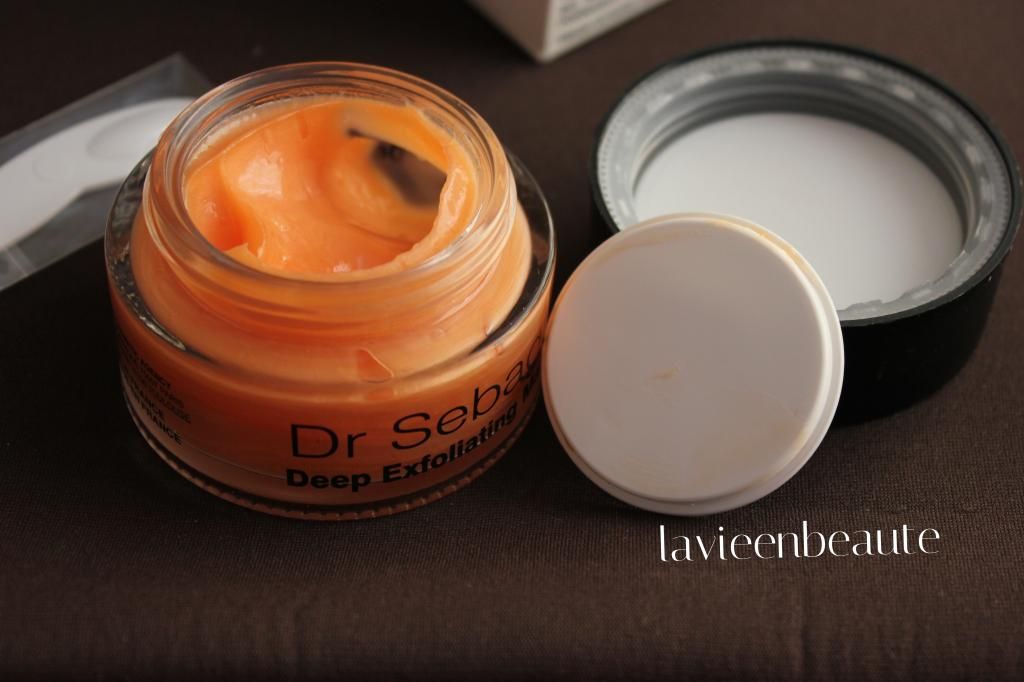 What is the Deep Exfoliating Mask? Here's what Dr. Sebagh says:
"A combination of Azelaic and lactic acid to exfoliate dead layers of skin for a faster cell turnover. An excellent pre-party ritual, skin looks instantly lighter, brighter and smoother. For that wow factor of highly polished skin use once or twice a week.
This award winning treatment mask leaves skin beautifully smooth, radiant & polished in just ten minutes. Mix with the Pure Vitamin C Powder Cream to help treat acne and reduce pigmentation."
(Definitely try and do a patch test first–I had to review the product for you guys so I didn't bother haha). This is my first experience with an AHA product, and it did sting a little bit, but after washing it off it was totally fine.
The product is scented, a light fruity scent that I noticed on application and gradually it wore off. It doesn't linger once the mask is washed off. The texture is a thick cream that is easy to smooth on. It's packaged in a glass jar that looks more utilitarian than decorative, with a screw top lid and is accompanied by a spatula (I approve!).
A little about my skin: Combination leaning on the oily side, pretty clear normally, biggest skincare concern: blackheads on the nose. I'll be using this mask mostly on my nose area.
After about 10 minutes, I washed it off with warm water. It does sink in a little as it's absorbed so it takes a little massaging to wash it off completely. After I washed it off, I was seriously surprised at how glowy my skin looked. I was really skeptical that this mask could work in such short of a time–how many products promise this and come up with nothing?–but my skin definitely did look different. I thought the pores on my nose seemed smaller and clearer.
One thing about the mask is that  I slathered on the moisturizer after using it. I felt like it might have been pretty harsh on the skin so I used a little extra of my normal moisturizer. After that soaked in, my skin felt SUPER soft and smooth. I was really happy with the mask, as the effects lasted for about two days.
I haven't had any breakouts yet with my weekly use. I will update if that happens, but so far I haven't had the slightest bit of irritation. The mask also comes in a sensitive version.
Dr. Sebagh Deep Exfoliating Mask retails for £59, or $115 [for 1.7 oz] depending on where you order it. This is quite expensive and definitely a luxury product, and I highly recommend that you get a sample first if you can, because it can irritate the skin. For myself, I'm not sure that I would repurchase it, because of the price and because I love trying new products, but if nothing else can give me such instant results, eventually I will probably cave. The produc was easy to use and delivered on its promises–the only drawback is its hefty pricetag.
Have you heard of Dr. Sebagh before this? Would you splurge on a product like this?
Please note that this post contains a sample product sent to me by a Harrods representative for review purposes. For full details, please see my Disclaimer and Copyright Information.